The Rain Meditation For Radical Self-Compassion
The rain meditation is a type of mindfulness exercise. This skill will help increase your self-compassion as you are mindful of your present reality. It was created by Tara Branch, Phd, a meditation teacher, psychologist, and author of several books on acceptance and self-compassion.
Your invited to take a few minutes and go through the rain meditation exercise outlined below. I hope you enjoy the exercise.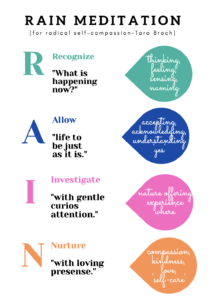 If you want to talk to a therapist and learn about and practice other mindfulness skills you can contact us now. Click here.
Author: Dara Fields, APCC
Family Dynamics Resource Center
Associate Professional Clinical Counselor (APCC)